Lazada Expands into C2C with Lamido
09:29:15 | 12 Nov 2013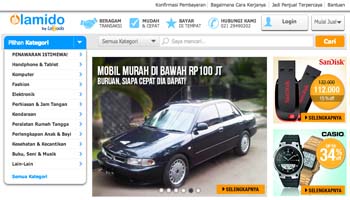 JAKARTA (IndoTelko) – The Lazada Group expand into a new business line focusing on the C2C segment with the launch of Lamido (www.lamido.co.id).
Lamido is already live in Indonesia and Vietnam and other countries are expected to be launched soon. "With a huge informal e-commerce market including thousands of shop on social networks such as Facebook and Instragram we realized that a huge part of the market was underserved by the current Lazada offering. We are aiming to help this market to become more professional and customer friendly," said Lamido CEO, Tom Damek. Together will all major Indonesian e-commerce businesses, Lamido will take part in the 11/11 online revolution campaign. It has lined up an extensive range of exciting offers including a number of unique and sought-after memorabilia such as signed football shirts of Indonesian National Team stars and gadgets
with no reserve price. The campaign will provide everyone with a chance to get gadgets for a small fraction of the retail price with the proceeds going to charity.
Artikel Terkait
Rekomendasi
Berita Pilihan